Flow Test Systems
CTS' Flow Testing Systems are custom test solutions engineered to test parts to ensure they conform to manufacturer specifications and sized to meet production requirements. Functional Flow Testing typically uses variations of Mass Flow and Pressure Decay Test techniques to measure part functionality.
CTS offers several standard instruments for flow testing; some more dedicated to the type of testing they can provide. Typically, an instrument is configured for the type of functional testing required by the application. Depending on the size and complexity of testing geometry of the part we offer two type of control configurations; Wall Mount and Benchtop instruments. Typically the wall mount is used for systems and for panel mount operation. Some cabinet models have more testing capability and provide room hardware, such as multiple test ports, regulator and I/O. The Benchtop units have a smaller footprint, yet still offer 4 port testing capability and offer test, flow and pressure options.
For medical applications we have our Sentinel Blackbelt line of benchtop instruments providing enhancements specifically designed into the product for medical part testing applications. These instruments can be configured with 4 test ports that are capable of running multiple test types from one control and connectivity to run four tests without changeover. Both instruments are customizable to provide pressure and/or vacuum tests from the same instrument.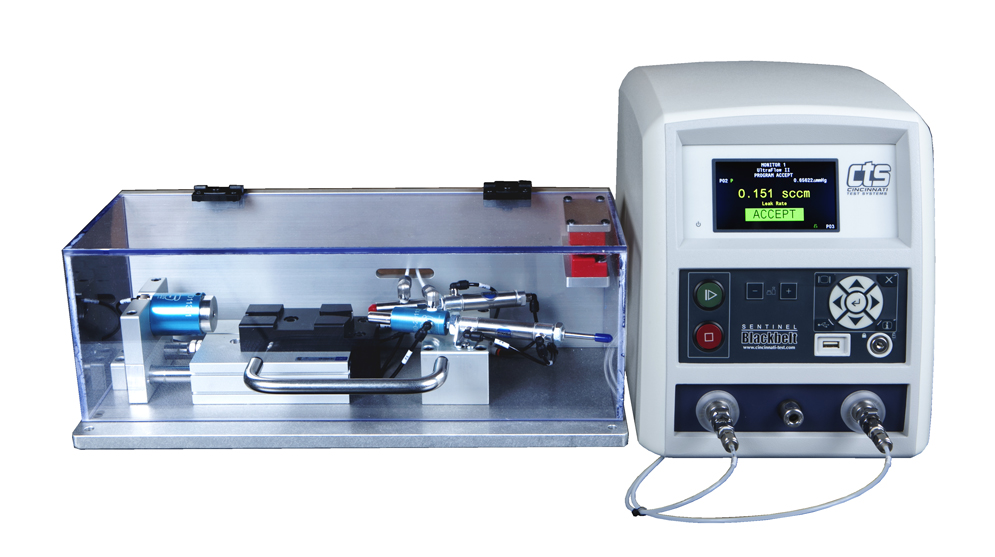 CTS can provide turnkey test solutions for most any project; from the most basic table top system to a fully automated multiple station system, providing part movement, part identification and marking for SPC part identification, and progressive multi-part station tests within the test cell. All CTS systems will collect, store, and download complete and accurate data for SPC analysis.
Cincinnati Test Systems will custom design that can include a broad range of Functional Flow Test, such as: burst, leak, flow, calibration, or integrity testing.